Learn to create custom form templates to define the exact layout of data fields in form categories that meets your business requirements with Code OnTime Designer. The templates are based on HTML. Simple data field placeholders are automatically substituted in the client web browser.
Watch this tutorial on our YouTube channel at http://www.youtube.com/watch?v=OCobJ84wY7o.
This is the screen shot from the tutorial that shows a custom data field category of the form view editForm1 with the template from tutorial applied to it.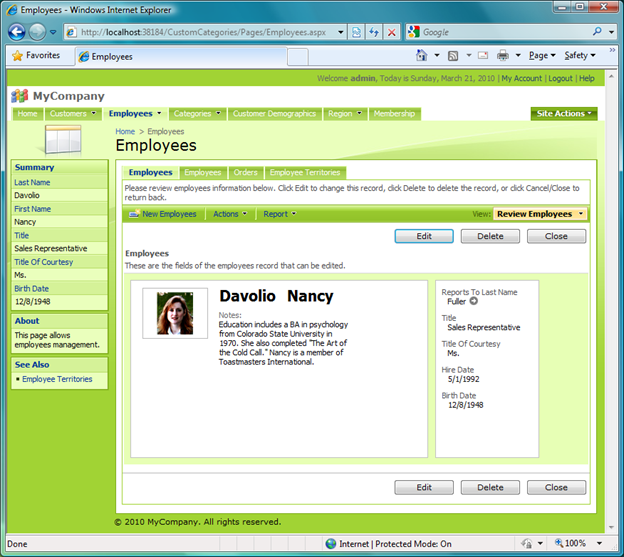 Here is the markup  of the custom form template used in this tutorial:
<

table

>
    <

tr

>
        <

td 

valign

="top">
            <

div 

style

="

border

: 

solid 1px silver

; 

width

: 

400px

; 

height

:

230px

; 

background-color

: 

white

; 

padding

: 

8px

;

">
                <

div 

class

="FieldPlaceholder DataOnly">
                    

{Photo}

</

div

>
                <

div 

class

="FieldPlaceholder DataOnly" 

style

="

font-weight

: 

bold

; 

font-size

: 

16pt

;

">
                    

{LastName}

</

div

>
                <

div 

class

="FieldPlaceholder DataOnly" 

style

="

font-weight

: 

bold

; 

font-size

: 

16pt

;

">
                    

{FirstName}

</

div

>
                <

div 

class

="FieldPlaceholder DataOnly" 

style

="

width

: 

200px

; 

margin-top

: 

8px

;

">
                    <

div 

style

="

margin-left

: 

8px

; 

color

: 

dimgray

;

">
                        

Notes:

</

div

>
                    

{Notes}

</

div

>
                <

div 

style

="

clear

: 

both">
                </

div

>
            </

div

>
        </

td

>
        <

td 

valign

="top">
            <

div 

style

="

border

: 

solid silver 1px

; 

height

:

230px

; 

background-color

: 

White

; 

padding

: 

8px

; 

margin-left

: 

8px

;

">
                <

table

>
                    <

tr

>
                        <

td

>
                            <

div 

class

="FieldPlaceholder">
                                

{ReportsTo}

</

div

>
                        </

td

>
                    </

tr

>
                    <

tr

>
                        <

td

>
                            <

div 

class

="FieldPlaceholder">
                                

{Title}

</

div

>
                        </

td

>
                    </

tr

>
                    <

tr

>
                        <

td

>
                            <

div 

class

="FieldPlaceholder">
                                

{TitleOfCourtesy}

</

div

>
                        </

td

>
                    </

tr

>
                    <

tr

>
                        <

td

>
                            <

div 

class

="FieldPlaceholder">
                                

{HireDate}

</

div

>
                        </

td

>
                    </

tr

>
                    <

tr

>
                        <

td

>
                            <

div 

class

="FieldPlaceholder">
                                

{BirthDate}

</

div

>
                        </

td

>
                    </

tr

>
                </

table

>
            </

div

>
        </

td

>
    </

tr

>
</

table

>